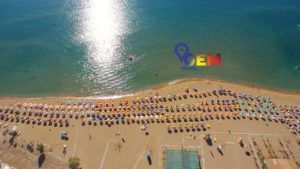 Weather: One could say that there is no better place to enjoy a sunny day; as Rhodes, according to Greek Mythology is considered to be the daughter of God Sun – Helios and the nymph Rhodes. The hot South-European summer becomes gentler while combined with the island's vegetation and Aegean Sea's breeze. The climate is temperate, with the average temperature during summer months at 30°C and the sunny hours exceeding the ten daily. Rainfalls are usual from October to April and rare in the summer. During the summer one may encounter fog in some locations at high altitude.
Hospitality: Greek hospitality is well known worldwide. Rhodians could not be the exception. From the town to the smaller village people are always willing to help visitors in various ways: from information, to buying a drink (this is common and happens for no particular reason – the Greek word is "kernao") or even to house in a stranger if they need so. This attitude stems from two things: the Mediterranean temperament on one hand, and the long multicultural history of the island on the other. If you add to the latter the mixed marriages that are taking place during the last decades then you have both a proof and a reason for what is called hospitality and creating a good mood. Finally we cannot avoid mentioning that according to a 2013 research of the British web site airport transfers taxi drivers in Rhodes are considered to be among the most polite in the world.
Historical Sites: Rhodes Island is populated for more than 3500 years (The first were the Minoans from Crete in 16th century B.C.). One can find elements of any era of the known world. The ancient cities of Lindos (Acropoilis of Lindos), Kameiros and Ialysos along with the Acropolis of Rhodes, Apollona's Temple and Diagoras ancient stadium; Churches and chapels from the Byzantine era. The castles of Monolithos and Kritinia and of course The Medieval City of Rhodes (an UNESCO heritage site) with the famous Palace of the Grand Master; Mosques from the period that the island was occupied by the Ottomans. After all, Rhodes' modern history begins with the Italian occupation in 1912 which lasted for 40 years and left behind a great architectural style, obvious in many places – among them Filerimos' Cross, Profitis Ilias' Elafos & Elafina and a lot of buildings in city center.

Great Beaches: No need to explain a lot about this. Rhodes island can satisfy any swimming taste; from long sandy beaches, either quiet or with a cosmopolitan flavour to tiny gulfs. All over the west coast (Kallithea, Faliraki, Afandou, Tsambika Beach, Kalathos, the famous St. Paul's Beach in Lindos, Glystra, Kiotari) the sea will be serene, just perfect for kids and summer games. The East coast is usually not so calm in summertime, ideal for those who prefer a wilder (of course still absolutely safe) option. Certain locations as Prasonisi and Kalavarda / Kamiros are considered to be great for surfing. Since there is no closing time keep in mind that also a lot of beach parties are held every year. So either in a massive event or in quieter moments with friends one should once enjoy the night's dew and the clear, full of stars sky above…
Traditional villages / products / gastronomy: Of course Rhodes Island is a European destination; of course you can go shopping and find here all the new trends; of course you can have anything for lunch: greek gyros or souvlaki, pizza, spaghetti, stakes and burgers, Chinese and sushi. Still you will miss an essential part of the island.
Visiting the inland, in places such as Salakos, Siana, Monolithos, Embona Archipoli, Psinthos, you can have an idea of countryside everyday life and at the same time be introduced to local cuisine. Greek salads, homegrown vegetables, legumes cooked in special ways, local stakes and sausages and of course excellent homemade wine. What is more, you can find a considerable amount of homemade products: olive oil, honey, wine, souma (high-alcohol drink), melekouni indeed, and a variety of local sweets. On the other hand, everyone is surely aware of fish tavernas, the fresh fish and sea food… this is not new; you are in Aegean Sea!
Nature and excursions: One thing Rhodes cannot offer is the picture of white houses with blue windows common in Greek islands like Santorini, Mykonos or Patmos. This is because it is a much larger place. Here, apart from the 250km coast, the visitor has the chance to enjoy a vivid nature. The winter rainfalls help much and the island retains a green image. Early morning or afternoon is ideal for hiking or biking. Along with visiting a mountainside village you wil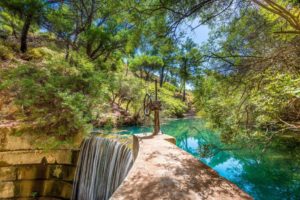 l forget for a while that you are on an island ("unfortunately" at some points of the road there is this terrific view of the sea and the small islands beneath that it is going to remind it to you again!). Even if you do not decide to spend time in such activities, there are places like Seven Springs and Profotis Ilias that you should take a look at. With some luck you may meet one of the famous deer. Not a matter of luck is, of course, visiting the Butterfly Valley.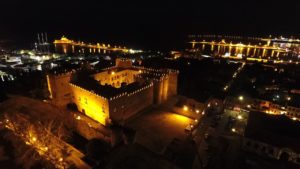 Nightlife: Beach parties, bars and clubs of any kind – techno, r'n'b, rock, metal, jazz etc – greek music – bouzoukia either live or by dj, in two words anything from a piano bar to the legendary Orphanidou Street. As soon as night falls we can all forget Greek crisis and find a way to have fun! (the Greek word for having fun is "diaskedazo" which literally means scatter melancholy). You can find some great places in Lindos or Faliraki and of course downtown: both in the very city center and the Medieval Town. For those who prefer a milder option, cafes stay open until late evening and most Greek restaurants have a small orchestra to create a sense of a traditional Greek "glenti" (party). For the rest, the nightlife is usually spellbinding. Small hint: mingle with locals! They know things usually not mentioned in a tourist guide.
Safety: Rhodes is undoubtedly one of the safest holiday destinations. Despite the crisis crime rate is null. Even Faliraki district, once infamous, is now steering clear of cruel incidents. From the beaches to the smaller alley one can feel secure and enjoy their time without worrying. Authorities, not only officially but also practically guarantee safety in terms of public health and circulation. For any emergency case there is a state and one private hospital fully equipped. So, feel ease and enjoy!
Hotels: Once more Rhodes can meet anyone's needs. You can find quite everything from the cheapest option if you are not to stay in at all, to luxurious hotels that will make you unwilling to get out at all. There are rooms to let and small hotels with fabulous sea view in any region of the island. You can book a villa with private swimming-pool in countryside or an apartment in City's Center. An all inclusive low-cost hotel as well as luxurious international brand – five stars ones. Some are internationally acknowledged and awarded, others provide less but still their people and their location offer a full answer to what you would need in order to feel as comfortable as possible. Selecting the place to spend the year's vacation time is hardly an easy choice, but they are very few those who have left disappointed.
Casino: Yes, yes, yes! Ok, this may not be interesting for everyone, but there are some for whom it is vital! All right seriously now: Rhodes does offer this option and not exclusively for gamblers. Rhodes Regency Casino is a very special place to visit. A beautiful Italian building, located right next to City Center, only a hundred meters from City's Town hall. You can have a drink in the garden or a meal at the restaurant. Often special events, for example concerts take place there. In any case this is time to have fun, and spending an evening of your holidays in a casino can surely be a lot of fun.