A strip of sand separating the Carpathian Sea in two and joins the Prasonisi with the rest of Island. No, don't think that you are dreaming, indeed one side is with calm sea and the other is with rough sea. It is a miracle of nature, because the summer is peninsula and the winter is an island!
You will find an endless, well-organized sandy beach here. Definitely, it is ideal meeting for all those adorable of windsurfing or kitting.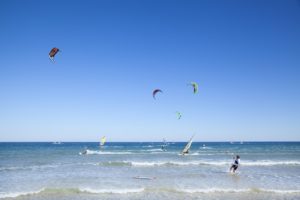 You can enjoy fresh fish and many traditional delicacies in small taverns or drinking cool ouzo, coffee or refreshments in snack bars of Prasonisi area.