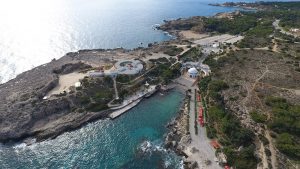 Kalithea Springs were well-known for the therapeutic nature of the water found there from the ancient times. For that reason, people were traveling and encamping there through the months of August and September, in order to be near the springs.
In 1927, after a study conducted by Gustavo Gasperini, his son Carlo and Enea Brunetti, the therapeutic properties of the area's water came to the light. This conclusion led to the creation of a Thermal Spa Institution for the most exigent health requirements of that time. The building complex that was constructed there was considered as one of the architectural masterpieces of the 1930s.
Nowadays, though the Spa may not be in operation, the place still offers many therapeutic moments of relaxation and absolute beauty. Enjoy your time by the sea, gazing at a great view. Afterwards, you should definitely take a walk through the former spa's buildings still standing there, surrounded by palms and pine trees.
When visiting Kalithea Springs, you will realize for sure why this place is one of the most outstanding landmarks of the Island.